2009.02.01 Sunday
Wilbur が version 1.67 になっていた
3DCG で地形データなどに使う height field データ(画像)を加工するのに便利なフリーソフト『 Wilbur 』がバージョンアップして、Version 1.65 から Version 1.67 になっていました。リリースされたのはつい先日の1月26日です。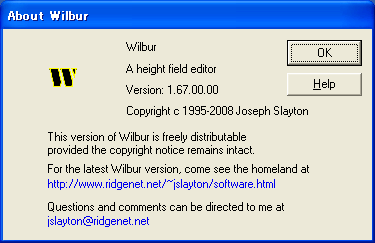 バージョンアップ履歴を見ると次のようになっていました。
Changes in Version 1.67 of Wilbur [26 January 2009]
* Added HF2/HFZ support. Does not support saving extended header information across load/save.
* Updated zlib and lpng source. Was using some rather elderly versions.
* SRTM healer should be usable in multi-file imports again.
* A little more code cleanup.